---
Variables to consider
---

The following considerations will influence the design and the choice of the right expansion joint type.

¡Medium
The choice of expansion joint type is determined, among other things, by possible chemical influences. Abrasion from solid matters is largely prevented by using a sleeve/baffle construction.

¡Temperature
A specific number of insulating materials are required for reducing the temperature,
We determine the insulating effect by calculating and measuring the temperatures in
a complete expansion joint.
The exact temperature flow is found by means of probes and recorders.
Temperature range : -60`+1400Židepend on designj@@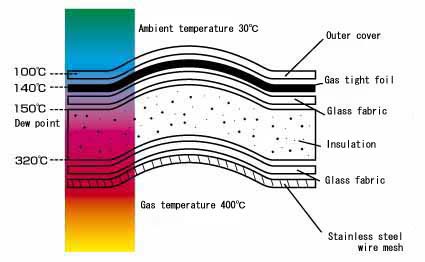 £Example F Temperature gradient and flow in a multi-layer expansion joint

¡Pressure
Will the expansion joint be used in a positive pressure or negative pressure area? This will have influence on both type and design of the expansion joint. The main application area covers the pressure range of }400mbari}40kPaj.(Fabric expansion joints will resist pressureup to approx. 3 bars.)

¡Tightness (sealing)
The requirement for tightness have influence on the design and especially the configuration of the flange area. If the sealing rate must be documented ( Nekal tightness or specific leakage rates), the expansion joints are built with special flange designs. We are able to determine leakage rates for various materials and complete expansion joint structure on our test rigs.